Maxi Taxi and Wheelchair Taxi Perth
Experience the Perth's leading maxi taxi and wheelchair taxi provider at convenient and affordable price. Reliable wheelchair taxi vans, mobility taxis.
By submitting my data I agree to be contacted.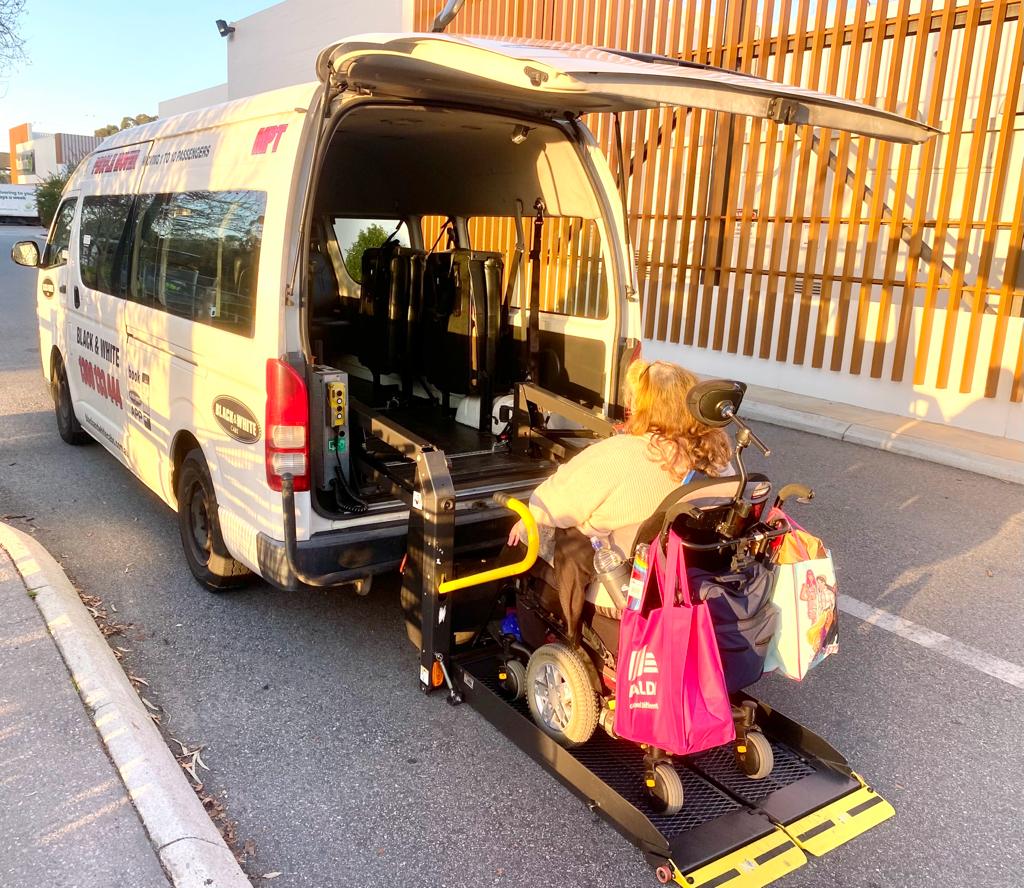 Embark on a Journey of Accessibility with Wheelchair Taxi Perth! We take pride in providing safe, reliable, and accessible transportation for our valued disabled clients. Whether you require a one-off trip, or regular bookings, we treat you with personalised care you deserve.
Our diverse fleet comprises wheelchair-accessible vehicles, including 5, 7-seater taxis and 12-seater maxi vans, all equipped with modern amenities and the latest lifting equipment and wheelchair restraints for a secure and smooth journey.
As an NDIS (National Disability Insurance Scheme) provider, we accept NDIS funding, enabling us to offer transportation services for people with disabilities to medical appointments, work, social outings, and any other required destinations.
In addition, we proudly accept TUSS (WA Taxi Users Subsidy Scheme) vouchers as a payment option. This scheme provides discounted taxi fares for individuals with severe or permanent disabilities. If you possess TUSS vouchers, please inform us during the booking process, so we can apply the approved reduced fare.
For dependable and compassionate wheelchair transportation services in Perth, contact us today. Our dedicated team is eager to assist you with all your accessible taxi and medical transportation needs, ensuring a comfortable and worry-free travel experience.
Why to choose Wheelchair Taxi Perth
At Wheelchair Taxi Perth, we take pride in offering exceptional taxi services in Perth. Here's why you should choose us:
Wheelchair Taxi Perth a Reliable, Elegant, and Seamless Transportation Services
Discover Wheelchair Taxi Perth, your premier transportation service in Perth. Experience reliability with our Wheelchair Accessible taxis, add elegance to your special day with dedicated wedding transportation, ensure safety for your little ones with our baby seat taxis, and enjoy efficient parcel delivery services. Explore the captivating beauty of Perth with our exciting trips and tours, and trust our seamless corporate travel solutions. Choose from our spacious fleet of maxi taxis, vans, cabs, minibuses, and buses for all your transportation needs. Book now for an exceptional transportation experience with Wheelchair Taxi Perth.
Spacious and Versatile: 5 to 12 Seater Maxi Taxis in Perth
Find the ideal transportation option with Wheelchair Taxi Perth's roomy and adaptable 5 to 12 seater Maxi Taxis in Perth. Our Maxi Taxis provide plenty of space and comfort for your trip, whether you're going from Perth Airport to the city or the other way around. We guarantee accessibility for all customers with the help of our specialised wheelchair taxi services.
Planning a group transfer? Our Maxi Taxis are ideal for accommodating larger groups, ensuring a seamless and convenient transportation experience.
Make your wedding transfers extraordinary with our 5 to 12 seater Maxi Taxis. Arrive in style and elegance, creating lasting memories on your special day.
Traveling with little ones? Our Maxi Taxis provide infant seat options, ensuring the safety and comfort of your children throughout the ride.
Smooth and stress free airport trasnfers with Wheelchair Taxi Perth
With Wheelchair Taxi Perth, enjoy the smoothest, least stressful airport journeys possible. Our dedication to client pleasure guarantees a smooth and trouble-free trip to and from the airport. We can easily transport parties of any size thanks to our fleet of vehicles, which includes 8-seater taxis, 10-seater maxi taxis, and 12-seater taxis. Our skilled drivers will make sure that your transfer from Perth Airport to Fremantle or Mandurah is prompt and reliable. When you rely on Wheelchair Taxi Perth for your airport transportation requirements in Perth, you'll get a smooth journey, amiable service and the convenience of a stress-free trip.
Your Maxi Taxi Awaits Book Now for a Seamless Journey!
By submitting my data I agree to be contacted.
Wheelchair Taxi Perth made my life so much easier! Their drivers are caring and ensure a smooth ride every time. I can rely on them for all my transportation needs.

Traveling with my daughter's wheelchair was never this easy. Wheelchair Taxi Van provides ample space and a comfortable ride for our family outings. Highly recommended!
Maxi Taxi Perth is a game-changer for our social club. The spacious and wheelchair-accessible taxi allows us to travel together hassle-free. Thank you for the inclusive service!
FREQUENTLY ASKED QUESTIONS
What is a Maxi Taxi in Perth?
In Perth, a Maxi Taxi is a roomy, adaptable car that can carry bigger groups of passengers. It is perfect for group transportation, airport transit, and event transportation and has comfortable seats.
Are your taxis wheelchair accessible?
Yes, Wheelchair Taxi Perth provides wheelchair accessible vans to ensure a convenient and comfortable experience for individuals with mobility needs. Our vehicles are equipped with ramps or lifts for easy wheelchair access.
How can I hire a Maxi Cab in Perth?
Marks and devious Semikoli but the Little Blind Text didn't listen. She packed her seven versalia, put her initial into the belt and made herself on the way.
How can I hire a Maxi Cab in Perth?
To hire a Maxi Cab in Perth, you can contact Wheelchair Taxi Perth directly through our website or phone number. Our friendly team will assist you in booking the right vehicle for your transportation needs.
Do you offer mobility van hire in Perth?
Wheelchair Taxi Perth does, in fact, rent out mobility vans in Perth. Our wheelchair-accessible vehicles are built to provide convenient transportation for anyone who need to move about.
How to Change my Photo from Admin Dashboard?
Far far away, behind the word mountains, far from the countries Vokalia and Consonantia, there live the blind texts. Separated they live in Bookmarksgrove right at the coast
Can I hire a wheelchair accessible van in Perth?
Absolutely! Wheelchair Taxi Perth provides wheelchair accessible van hire in Perth. Our vans are equipped with the necessary features to accommodate passengers with wheelchairs or mobility devices.
Do you provide airport transfers in Perth?
Yes, we offer reliable airport transfers in Perth. Whether you need transportation to or from the airport, our professional drivers will ensure a seamless and punctual journey.
Can I book wedding transportation services in Perth?
Certainly! Wheelchair Taxi Perth offers dedicated wedding transportation services in Perth. We understand the importance of making your special day extraordinary and will provide elegant and reliable transportation for your wedding.
Do you have Maxi Vans in Perth?
Yes, we have Maxi Vans available in Perth. Our 5 to 13 seater Maxi Vans provide spacious seating and are suitable for group transfers, airport transfers, and other transportation needs.
Are Minibus services available in Perth?
Yes, Wheelchair Taxi Perth provides Minibus services in Perth. Our minibuses are perfect for larger groups, offering comfortable transportation for events, trips, and tours.
Do you offer parcel delivery services in Perth?
Yes, we offer efficient and secure parcel delivery services in Perth. You can rely on us to deliver your packages promptly and safely to their designated destinations.
Can I book trips and tours in Perth with your services?
Absolutely! Wheelchair Taxi Perth offers exciting trips and tours in and around Perth. Explore the captivating beauty of the region with our knowledgeable drivers as your guides.
Can I arrange group transfers in Perth?
Definitely! Group transfers in Perth are a specialty of Wheelchair Taxi Perth. Our roomy vehicles can easily fit your complete party, whether it's for business gatherings, family trips, or any other group travel needs.